The history of the Chinook has been passed down in letters, interviews, and by word of mouth. It changes as new information is discovered and validated.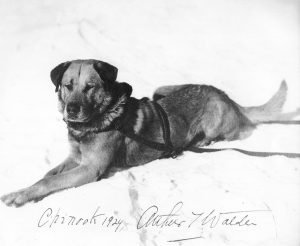 The Chinook is a Northern breed derived from a single ancestor. The father of the breed, Chinook, was born on author/explorer Arthur Walden's Wonalancet, New Hampshire farm in 1917. He was one of three pups born to a "Northern Husky" female sired by one of the dogs on Peary's North Pole team. Chinook's sire was a large, mixed breed dog. Chinook was a "sport," a phenomenon of nature, not resembling either of his parents. He was an outstanding sled dog and accompanied Admiral Byrd's South Pole expedition in 1927. Chinook's offspring, who inherited coloring, size and general characteristics, were bred to combine the strength of the large freight dog with the speed of the smaller racing sled dogs. In the early 1900's, the Chinook set records for distance covered, loads carried and running time. This breed has been through the years by a small number of dedicated fanciers.
The Chinook was recognized by the United Kennel Club in March 1991.
Walden's Era
Arthur Walden's famed lead dog, Chinook, was born in New Hampshire on January 17, 1917. He was tawny with a black mask and descended from mixed parentage. His dam was a Greenland Husky, his sire, a large tawny, Mastiff/St. Bernard-type dog. Chinook had the intelligence, power, endurance, speed, and friendly nature that Walden was trying to develop in a sled dog. He was a great lead dog, but was also known for his gentle disposition toward children.
Chinook was bred to German Shepherd Dogs and Belgian Sheepdogs (at this time, all varieties were considered the same breed) from working backgrounds, Canadian Eskimo dogs, and perhaps other breeds. These offspring were bred back to Chinook, and to each other to create the Chinook breed. He was considered a sport of nature because he sired pups that resembled himself in size, color, drive and intelligence.
With Chinook in lead, Walden and his "Chinook" dog sled team were the first to successfully climb Mount Washington. Walden is credited with bringing the sport of sled dog racing to the New Hampshire area; founding the New England Sled Dog Club in 1924, which is still in existence today. Walden's teams dominated this sled dog racing circuit for many years.
Admiral Byrd appointed Arthur Walden lead driver and dog trainer for Byrd's 1929 Antarctic Expedition. Byrd wrote in Little America, "Had it not been for the dogs, our attempts to conquer the Antarctic by air must have ended in failure. On January 17th, Walden's single team of thirteen dogs moves 3,500 pounds of supplies from ship to base, a distance of 16 miles each trip, in two journeys. Walden's team was the backbone of our transport. Seeing him rush his heavy loads along the trail, outstripping the younger men, it was difficult to believe that he was an old man. He was 58 years old, but he had the determination and strength of youth". (page 107).
During the expedition, on Chinook's twelfth birthday, he wandered away and was never found. Walden had lost his best friend. Byrd wrote, "The second incident, perhaps the saddest during our whole stay in the Antarctic, was the loss of Walden's famous lead dog, Chinook. Chinook was Walden's pride, and there was no doubting the fact that he was a great dog. He was old when brought to the Antarctic, too old for hard, continuous labor, and Walden used him as a kind of "shock troop", throwing him into a team when the going turned very hard. Then the gallant heart of the old dog would rise above the years and pull with the glorious strength of a three-year-old. Perhaps the saddest [incident] during our whole stay in Antarctica."
News of Chinook's death was heard round the world. Many mourned the loss of one of the greatest lead dogs in history. Route 113A from Tamworth to Wonalancet, New Hampshire, still bears the name 'The Chinook Trail' in his memory.
Upon Walden's return from the Antarctic he found that his wife had taken ill and half of his farm had been sold to Milton & Eva Seeley. Walden sold his Chinook dogs to Mrs. Julia Lombard. Lombard, along with Walden, continued to breed them for intelligence and disposition, stressing their ruggedness, stamina and gentleness of nature. In 1931, President Hoover declared a Chinook, Paugus, and his young owner, Lawrence Orne, to be America's most typical "boy and his dog."
Lombard Years
During Mrs. Lombard's ownership of the breed, the dogs were sponsored by Mother Hubbard dog food and raced throughout New England under the name "Wonalancet-Hubbard" Kennels. The dogs were also regularly exhibited at sportsman shows around the region. It was at one of these shows, the New England Sportsman's Show in Boston, MA, where Perry Greene, a famous woodsman, first met the Chinook breed and fell in love. For many years, Greene would exercise the Chinooks on the Boston Common during down times at the show. When Lombard decided it was time to sell the breed, Greene was a willing buyer.
Bob Payne met Chinooks in the mid-1930s. During the winter of 1937-38 he drove tourist rides for the Eastern Slopes Inn, in North Conway, NH. All of the dogs on his team belonged to the Eva & Milton Seeley at Chinook Kennel. Power, a Chinook, was his lead dog and all the dogs he worked with were veterans of the Second Byrd Antarctic Expedition. Bob raced one race with the team that winter, the Winnipsaukee Open on Lake Waukewan in Meredith NH.
During the 1930s, Julia Lombard owned the breeding rights to the Chinook breed. However, Arthur Walden was still very much an influence on the breed. In fact, Bob Payne saved letterhead from the Wonalancet-Hubbard Kennel that identifies Julia P. Lombard as Breeder, Arthur T. Walden as Director, and Edward L. Moody, a notable musher and sled builder, as Trainer.
In the summer of 1938, Bob Payne went to work for Wonalancet-Hubbard Kennels. The other people involved with the Wonalancet-Hubbard Kennel raced their own teams. So, Bob, who cared for the dogs, drove the Wonalancet-Hubbard team.
During the 1938-39 sledding season, Bob again did some tourist rides in North Conway. He also raced in five of the nine races sponsored by the New England Sled Dog Club (NESDC) in Class B. Bob saved all of the original NESDC Bulletins with the results of each of the races. Running a team of seven Chinooks, with Oomilik in lone lead, they placed 4th in Chester, VT (11 mi), 3rd in North Conway, NH(1st day 12 mi, 2nd day 6 mi), 1st in Camden, ME (12 mi), 2nd at NE Championship in Jaffery, NH (3 day event), and 1st in Bridgeton, ME (15 mi, 2 days).
Bob maintained scrap books with photos of the dogs (many labeled with names) and other memorabilia. Bob went on to have a son, Doug, who has maintained these momentos, long after his father's death. Doug has graciously shared this history with the Chinook community. Doug also hopes to one day add photos of his own Chinooks into the scrap books.
Perry Greene Era
In 1940, Greene bought the remaining Chinook stock and moved the breed to Warren, Maine. Greene later found suitable land for the dogs in Waldoboro, Maine, where he build a kennel and home. Eventually, Perry Greene became the world's only producer of Chinooks. During this time the Chinook became extremely popular as a household pet, with loyalty to the breed passed down through generations of Chinook owners.
Perry Greene continued Walden's unique method of selecting new owners. Before purchasing a Chinook, Perry required that a prospective owner stay at the Perry Greene Kennel for at least twenty-four hours. If the dogs did not like the person, he would go home empty handed. If the person passed this scrutiny, he could only take home a male or spayed female, and never more than two. Perry became the sole breeder of the Chinook dog and would not reveal their origin.
Many people in New England, and especially Maine, remember visiting Perry Greene and his Chinooks during the 1940's through the early 1960's. When these people meet modern Chinooks, they often expound on the dogs they remember from their youth.
Modern Era
After his death in 1963, the breed dwindled. In 1965, the Guinness Book of World Records recorded the Chinook for the first time as the "Rarest Dog in the World", with only a hundred twenty-five living, and the number dropping rapidly. By 1981, there were only 11 breedable Chinook dogs in the world. The remaining eleven breedable dogs were divided between Neil & Marra Wollpert in Ohio, Kathy Adams in Maine, and Peter Abrahams in California. Many others joined the ranks of breeders and by 1990 the Chinook population was up to one hundred forty.
Today over 400 purebred Chinooks are registered with the U.K.C. The Chinook Owners Association, the national breed club of the U.K.C., also maintains a cross breeding program and Chinook crosses recognized by the program are eligible for Limited Privileges registration with the U.K.C. The Chinook today is a valued family pet, as well as an excellent sled dog. They have gained popularity in both obedience and conformation shows and have demonstrated their ability in weight pulling competitions, assistance dogs for the disabled, recreational sledding, skijoring, agility, flyball, and even herding. The Chinook is a wonderful all around dog with an exceptional disposition and undying loyalty to its family.