On Saturday, February 22, 2020 from 11am - 3pm you can meet some real sled dogs and learn about New Hampshire's State Dog at the 25th Anniversary Chinook Winter Carnival to be held at the Tamworth History Center. On Sunday, join MJ Crance and John Habermehl of Sirius Rising Kennel for a sled dog workshop.
When: Saturday, February 22, 2020 from 11am - 3pm
Where: Tamworth History Center at 25 Great Hill Rd Tamworth, NH 03886
Why: To have fun with Chinooks - the Great American Adventure Dog that has a century old history!
For more details on this event, contact COA Historian Bob Cottrell.
History of the Chinook Winter Carnival - by Rick Skoglund
(written 2012)
In 1995 a small group of Chinook owners and their dogs gathered at the Perry Greene Kennel for what would be the first winter carnival. It was Martha Kalina's idea to start getting groups of people together and enjoy "playing" with their Chinooks. We had plenty to share, over 26 dogs and several teams that played nicely together. We all gathered and it was a "disaster". A warm Nor'easter struck, pouring rain, high wind and then no power. Houseful of guests, no emergency power, no water and cold food!
Earlier that year I had purchased several boxes of old harnesses and photos from an antique dealer for $300.00. So I pulled them out by candlelight and John Halloran and others started going through the boxes. The power eventually came on and John said "Hey Rick, look at this". One of the harnesses was inscribed, "Chinooks last harness, Lost in Little America". And that is how Chinooks lost harness was found. It was gifted by Walden to Perry Greene but no one knew the whereabouts. Some of the other harnesses were marked also such as Endur'es. I had the harness collection appraised,. I fell through the floor at the estimated $10,000 at auction. So, Chinook's harness and his sons' were gifted to the New Hampshire historical society where they are on permanent display, but that is another story.
So, what to do next year? Not at our home! Martha suggested Tamworth. We took a road trip and were immediately disappointed by the Siberian Huskies on the signs marking the trail. We contacted the Tamworth Board of selectman and inquired as to if they would be receptive to having the Chinooks return to Wonalancet and would they object if we could get the signs changed back to Chinook on the Chinook trail? (Sadly many had no knowledge of the Chinook breed.) They were most receptive and wished us good luck. Martha and I contacted the NH DOT and explained the signs were wrong. No problem, prove it! Yes, a challenge! Finding a first edition of the Complete Alaskan Malamute there was a photo of the sign of Chinook himself right in front of the Union Chapel where Walden's grave is. The DOT acknowledged their responsibility and co-operated completely including a few years later putting up signs "Chinook Trail" on Route 113 A. Today, residents on the old 113-A have Chinook Trail addresses! Martha and I are very proud to have been the impetus for that process.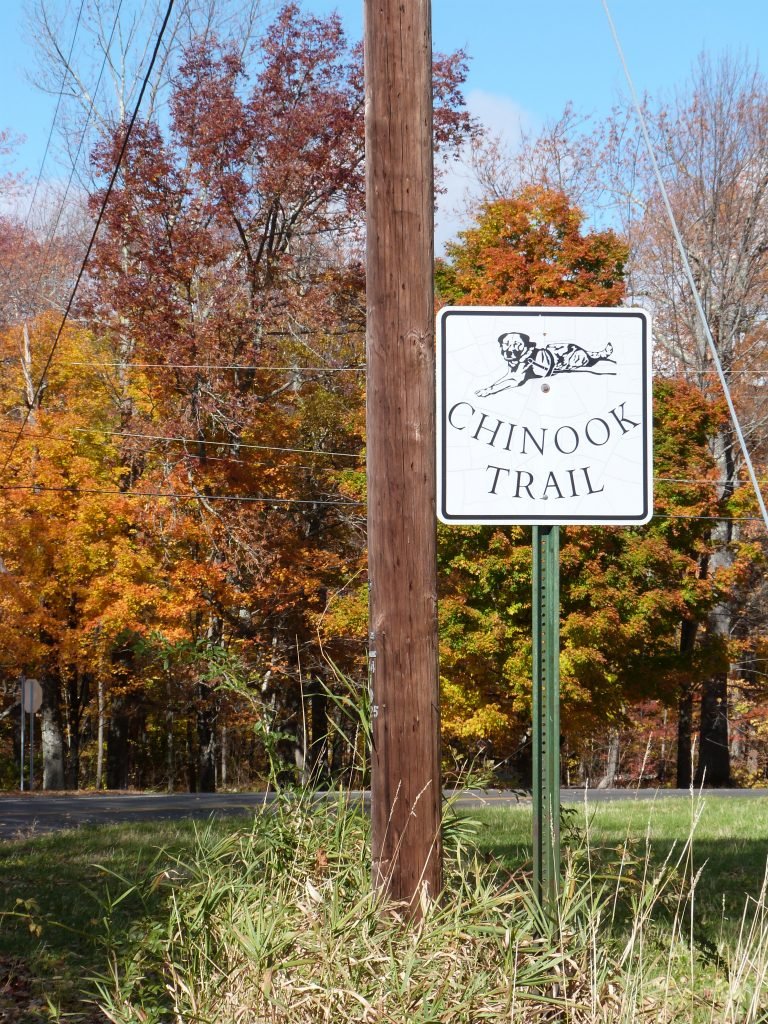 In 1996 the New Hampshire DOT put the signs with Chinooks likeness up for the 1996 Chinook Winter carnival. It is the same image on the sign at Chinook Kennels on the Chinook trail. We spent several years sledding and skijoring on the Intervale. We dined as a group at the Tamworth Inn for years. We attended the New England Sled Dog races where the Chinooks were also honored one year. The following years we ran our dogs to Chinook kennels who has cleared a path right to their door step. John Halloran and Perry Greene Seanook were the first to do this.
Channel 13 news anchor Amy Sinclair interviewed us one year, it was very odd to watch ourselves on television later that evening! Noted author Susan Conant hooked one of her Malamutes up and ran the trails with us one year, you never know what to expect. If you have never been on the Intervale it is awe inspiring, you can imagine Walden and Byrd training in this large field that is now preserved forever. The wind can be bone chilling. One year all of us unpacked, put our sleds on the snow, looked at one another and left, conditions were unfit due to wind and blowing snow, it was amazing to see but certainly someone would have gotten frost bite. I have made many friends over the years in Tamworth- Arthur Walden's family, property owners such as Helen Steele who allows us to use the Intervale, trail groomers, Tamworth Historical society etc. These contacts were about to become very helpful for the 2012 event.
In 2002 Bob Cottrell, then director of the Remick museum approached me about bringing the Chinooks to the Tamworth Winter carnival. Bob also owns a Chinook, Tamworth Tugger. He wanted to give some sled rides to the locals. It was an instant success. As many as 500 people attend this event and we get an average of 40 Chinook owners and their dogs.
In 2007, I approached Chinooks New England (CNE) about taking over sponsorship of the Chinook Winter Carnival and today this is an official CNE event. Ruth Lind and Rastro were given their own room this year and the Perry Greene Kennel brought part of their historical collection. Perry & Patti Richards (Perry Greene's family) have made the trip the last few years and joined in the fun.
Back to the future and the 2012 "no snow" winter carnival. A week before the planned event I started dropping "dimes". We had a nice dinner planned and a presentation and some people understandably were hesitating about going. I found out that the historic Intervale had enough snow to sled!. We could get the Union Chapel open! The event at the Remick became a "meet and greet the Chinooks". We were given a large fenced paddock and the dogs had a blast playing. The public thoroughly enjoyed meeting the Chinooks and we got some great photos that reflect the Chinook personality. Ruth Lind's 11 year old Rastro ran like a puppy in the ring.
Meet and greet over and we headed to the Intervale. We all visited Walden's grave, the Union chapel and ran our dogs, skijored and hooked up a 19 dog team as a stunt photo. We got a great group photo in front of the Union chapel. Jean Boutellier's Ukko gave her quite the ride and Mellissa Dury and Sierra won the best skijoring award. Most of us agreed, while it was unfortunate that the rides did not come off at the Remick we all enjoyed the opportunity to enjoy the Remick museum, sled dog exhibit and meet as a group at the Intervale.
So then off to dinner. CNE had a dinner meeting and we now have an event committee consisting of Marshall & Melissa Dury and Rick Skoglund. The event, which started as 10 or so owners and a few teams has grown to a large event that has many aspects. We had a delicious buffet dinner of steak tips, Chicken cordon bleu and lasagna. Bob Cottrell gave a power point presentation on the Chinook breed and William Heald, author of several books including Reminisce the valley in which he writes of Chinook and his racing days.
A few of us stayed up late and chatted. Sunday morning most of us headed out as the trails were too icy in the forest to run the dogs safely.
So there you have it - why the Chinook Winter Carnival was started. That is how the signs were placed on the Chinook trail, how Chinook's harness was found and how we ended up at the Remick museum! The Chinook Winter Carnival was envisioned as a way to honor Walden and the breed. A non "political" event where Chinook owners could come, see where the breed was developed and remember the past. Many Chinook owners just want to have fun with their Chinooks and this is a perfect way to do so. In 2001 Walden's family honored us by allowing us to visit their homes, Wonalancet Farm and Antler house. That is on our "radar" for a repeat. Come join us and "Take a Trip Back In Time: Where Walden & Chinook ran the trails of the Tamworth valley."